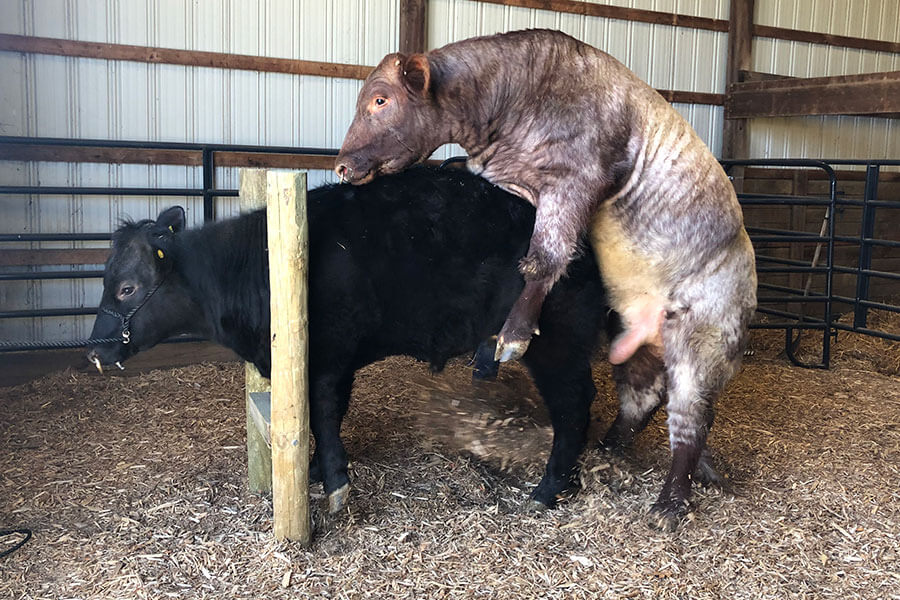 The collection process for each species is unique.  We strive to provide a quality collection process that is as stress free as possible for the animal while also maximizing production from each ejaculate.  Cattle, sheep, and goats can be collected with an artificial vagina (AV) or by using the electroejaculation method.  Whitetail deer are collected strictly with the electroejaculator while dogs are collected by digital manipulation.  

Below are collection services that we offer:
Collection for frozen conventional semen that is processed in house
Collection for a breeding soundness evaluation (BSE)
Collection for sex sorted semen that is shipped overnight to another facility for the sorting process
Collection for fresh, chilled shipments
Collections can be done at our facility or we can bring our services to you
Freezing semen, no matter what species, is a very sensitive process. We monitor our freezing chamber with a thermocouple throughout the entire freezing process to maintain an optimal environment for the best post thaw results. Each collection that is frozen at our facility goes through a post thaw evaluation in which we evaluate for motility as well as morphology issues. Only those collections that pass our post thaw evaluations are kept for breeding purposes.
We work with and offer custom freezing for technicians that are not equipped to freeze semen once collected. Give us a call if you have questions about what we can offer for custom freezing services.
Storing semen or embryos with us allows you to take the stress out of storing it for yourself, while also giving you peace of mind as the tanks are monitored on a daily basis. We have the ability to store semen that was processed in both straws and pellets and our 3,000 liter bulk tank ensures that we never run out of liquid nitrogen.

We also provide custom storage for your personal farm tanks. If you're only using your tanks during breeding season, leave them with us for the remainder of the year so that we can monitor nitrogen levels and top them off each month.
Shipping with us is an easy and affordable process. We can receive your request via email, text, or by phone. We primarily use UPS for our everyday shipments but can accommodate requests to use other freight companies, such as FedEx, as well. Vapor shippers are normally available on a daily basis and can be used to send or retrieve semen or embryos from across the country. We ship fresh-chilled collections as well that can be used for next day inseminations. If you're unsure of the cost of shipping frozen or fresh-chilled semen, give us a call and we'd be happy to provide you with a quote.
We Want to Hear from You!
Let us know if there is anything that we can help you with. If you are unsure whether we can be of assistance in your specific situation, send us a message and we'll get back to you in a timely manner.